Take a Moment to


Explore our rooms.

---

Mission & Vision
HOTEL VELIKI

Mission & Vision Our mission is to be your best Novi Sad's local host. Here are the principles that we live by every day : It has always been, and will always be, about hospitality. Accommodate guests in comfortable apartments, improving their stay and holiday is what we are passionate about. We tend to care deeply about all guests needs. Together, we embrace diversity to create a place where each of us can be ourselves. When we are fully engaged, we connect with, laugh with, and uplift the lives of our customers – even if just for a few moments. It's really all about human connection. Veliki is a a place where you can meet with friends, partners and family and our drive is that you feel at home (away from home). We are honest and straightforward in our interactions with our guests, colleagues and the community. Veliki is a part of a community, and we strive ourselves to be a great neighbor, partner, sponsor, colleague and a friend. It's not unusual to see local people coming to Veliki's restaurant to chat, meet up or even work. We're a neighborhood gathering place, a part of the daily routine – and we cannot be happier about it. Get to know us and you will see. All our guests inspire us to bring our mission to life. Hotel Veliki – Novi Sad Management
Join These Happy Customers—Book Now!

All what you need from meeting room in NOVI SAD

---
Rustic interior of the multi-purpose conference room in the hotel Veliki is an ideal option for anyone searching for event or conference venue in Novi Sad, Serbia.
Conferences


Why businesses choose VELIKI
Distraction-free space
Equipped for productivity
Team for help 
HOW DO YOU ORGANIZE A MEETING?


Meetings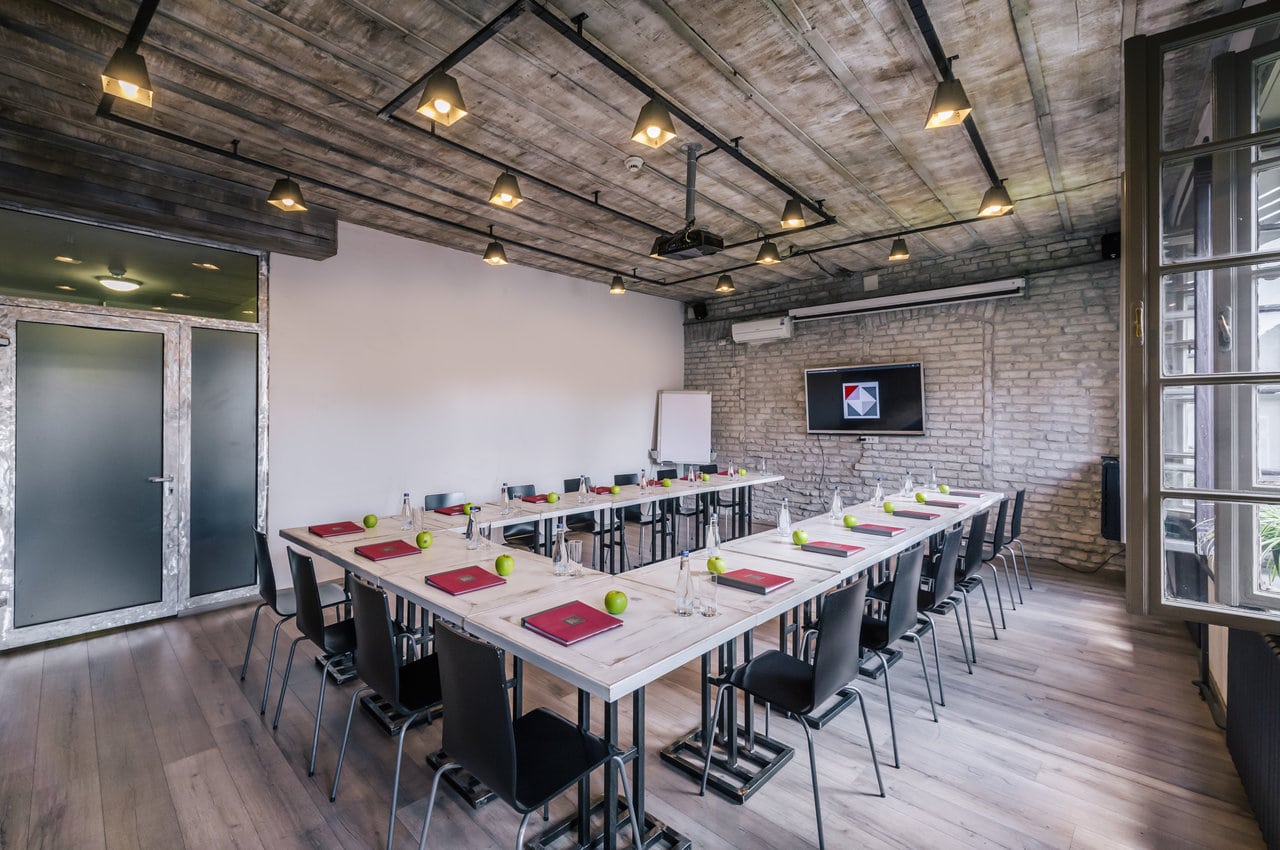 ARRANGE SEATING


Organising Successful Meetings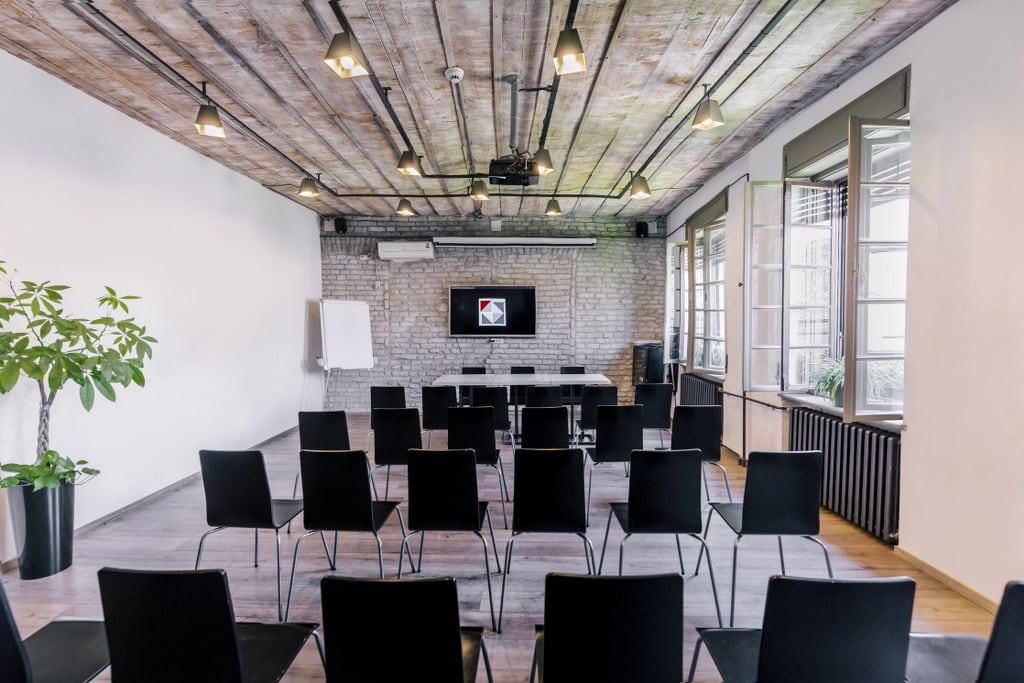 WE HAVE IT ALL IN ONE


Catering during meetings


Breakfast
Coffee break 
Lunch / Dinner 
Afternoon Snack
STAND OUT


Unique interior design

Unique interior design
Our unique designed meeting room in hotel VELIKI can seat up to 40 people.
45 square meter room accommodates training seminars, conferences, exhibitions, board meetings, cocktail receptions and similar activities. Air-conditioned and equipped with the latest conference audio-visual technology, the room stands out for its originality and design.
ARRANGE SEATING IN 5 DIFFERENT SETINGS


Choosing the best seating style for your audience.
The room is furnished with the modern surround sound system,lap top, Full HD projector and 240cm wide screen, 60′ Full HD LED TV, Full HD video conference equipment, and Apple TV. It is covered with Wi-Fi internet service, maximum daylight, and blackout shutters. Choose the best seating for your guests.
U SHAPE- up to 20 people
CLASSROOM – up to 20 people
HORSE SHOE – up to 35 people
HOLLOW SQUARE- Up to 20 people
BOARDROOM – up to 20 people
THEATRE – up to 40 people
FOOD & BEVERAGE


Events are ultimately about hospitality
With indulgent cuisine of the restaurant Veliki, create a perfect business meeting or presentation by enjoying a selection of hot and cold drinks, canapés, light meals, etc..
Explore &
Savor
Our favorite regional flavors.

---
Hotel Veliki is home of the Cafe-Restaurant Veliki, which is well known leader of authentic kitchen from Vojvodina. You can eat local delicacies, in modern settings!
Breakfast included in the price of your stay


Start with great breakfast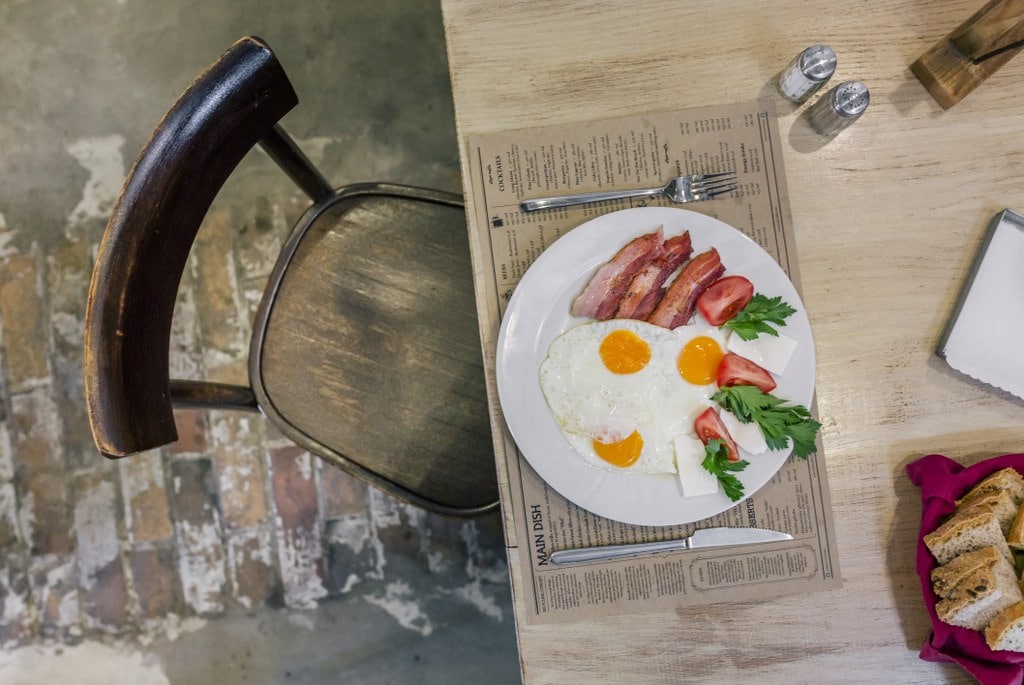 Café-restaurant Veliki's cuisine is influenced by authentic culinary delights from Vojvodina's national minorities (Serbian, Hungarian, Slovak, Jewish, German, and Austrian).
This cultural diversity for centuries, has left its mark on Vojvodina's cuisine today and in that sense, we aspire to the Vojvodinian concept of food.
Using almost forgotten grandmothers' delicious recipes, the authentic food is served in a modern way, complemented by fine wine and relaxed and pleasant atmosphere. The café-restaurant VELIKI offers a wide range of salads and creamy soups, variety of meat dishes and mouth-watering desserts.
All meals are carefully prepared from specially selected fresh and natural ingredients to ensure both quality and flavor.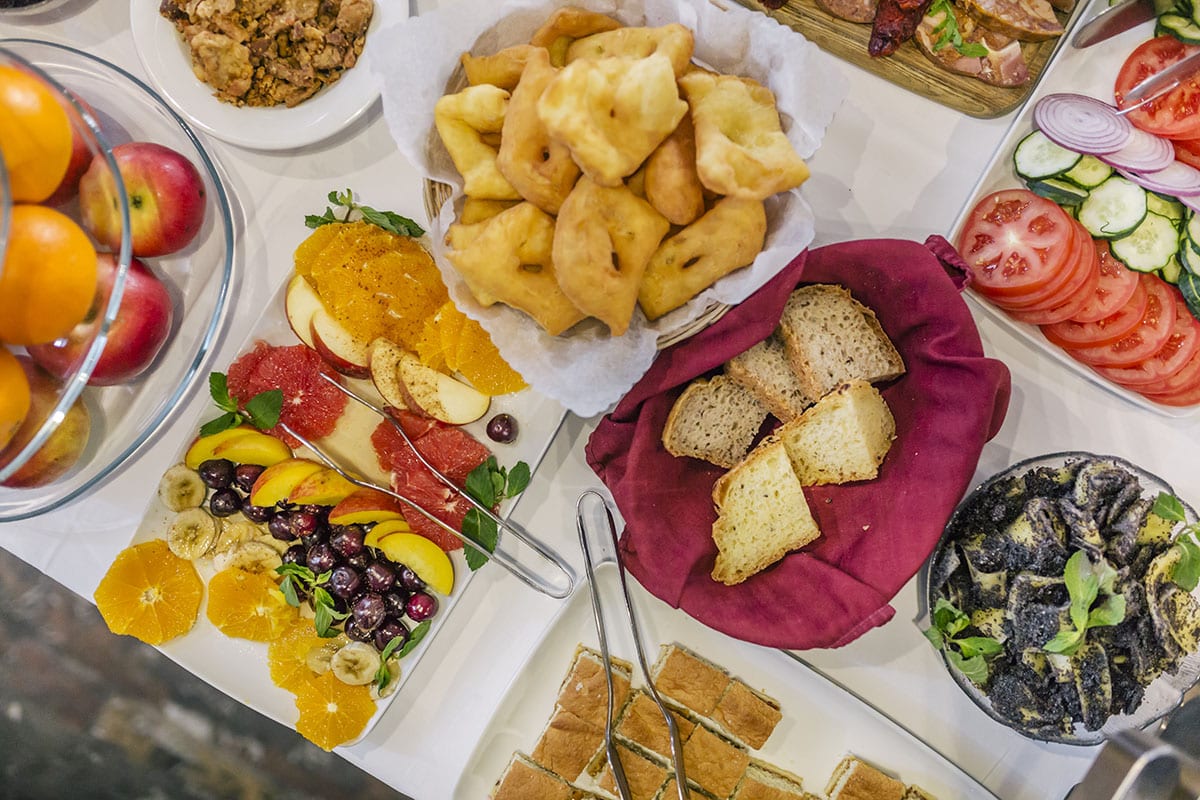 Premium RESTAURANT


Tasty, delicious food
We at Café-restaurant Veliki understand the importance of a balanced diet.
Whether it is a scheduled intensive business meeting or an eventful city tour in Novi Sad, a balanced breakfast is essential for a successful and productive day.
All our guests can enjoy a hearty buffet breakfast served every day from 8 to 11. From scrambled eggs to fruit with tea and coffee available upon request.
You are invited to experience a unique concept of the café-restaurant VELIKI.
Take a Moment to


Explore RESTAURANT VELIKI

---
Experience #1 | 400 meters from property


Novi Sad City center

---
Everything is within walking distance.
Explore city center…Zmaj Jovina Street – one of the oldest streets in Novi Sad, Liberty Square, the monument of Svetozar Miletic, Town Hall built in 1895th, catholic church "Name of Mary" which roof is covered with colorful ceramic žolnai, Theatre Square, Serbian National Theatre, Uspen church, built in 1774th in the Baroque style, largest palace in the city – Tanurdžić palace, Dunavski Park and so much more.
A wonderful adventure for all ages.
End everyday monotony with short trip to Novi Sad. Allow us to be your hosts while enjoying couple of romantic days in Novi Sad. Explore towns history and Petrovaradin fortress with great views, eat delicious Vojvodina food, drink lovely wines… have fun.
Book Now
Experience #2 | 3 km from property


Petrovaradin Fortress

---
Petrovaradin Fortress is an 18 th century fortress located on the right bank of the Danube river in Novi Sad. It is a popular tourist destination and visitors can explore its walls as well as its buildings. One of the most popular aspects of Petrovaradin Fortress are its catacombs, which, how is believed, contain the riches of Serbia's medieval leaders. EXIT festival is an annual summer music festival that has been held at the fortress since its inception in 2001. Since then, it has grown from the biggest festival in South-Eastern Europe, to one of the biggest in Europe.
Hotel Veliki is 3.4 km away from fortess. (8 minutes by car, 20 minutes walk through pedestrian zone, and beautiful Danube park) – valuable information for our Exit Festival visitors.
Equally great for kids and adults.
End everyday monotony with short trip to Novi Sad. Allow us to be your hosts while enjoying couple of romantic days in Novi Sad. Explore towns history and Petrovaradin fortress with great views, eat delicious Vojvodina food, drink lovely wines… have fun.
Book Now